Kitty Cantrell Artist Bio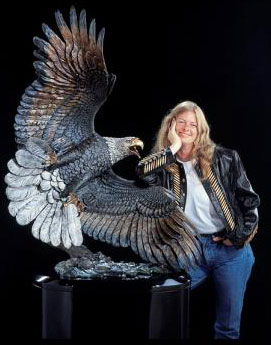 Artist and sculptor Kitty Cantrell has had a lifelong fascination with everything wild. She has studied the behaviors of animals with an artist's eye and imagination. Her driving passion has been to capture the essence of the animals she chooses to depict in her artwork. 
It is her unique ability to capture the emotion of how we as the viewer feel about the animals she chooses to create, which has won her countless awards and critical acclaim. Her identification with the subject matter has led her to be one of the most widely collected wildlife artists working in the United States today.
As a native of Southern California, Kitty Cantrell attributes her respect for all things living to a childhood spent in the Mojave Desert. It was in this arid environment that she became acutely aware of the rhythms of nature and she constantly challenges herself to incorporate this understanding into her artwork.